The Hyundai i30 is a popular compact car with positive reviews in many areas. However, like any vehicle, some owners have reported issues or areas of improvement.
it's important to remember that not all units will have these problems, and some might be specific to certain versions or model years.
To resolve these problems, Hyundai i30 owners often choose to upgrade their factory-fitted head unit system.  The upgrade enables car owners to experience the latest Apple Carplay, Android Auto, Maps and enhanced radio.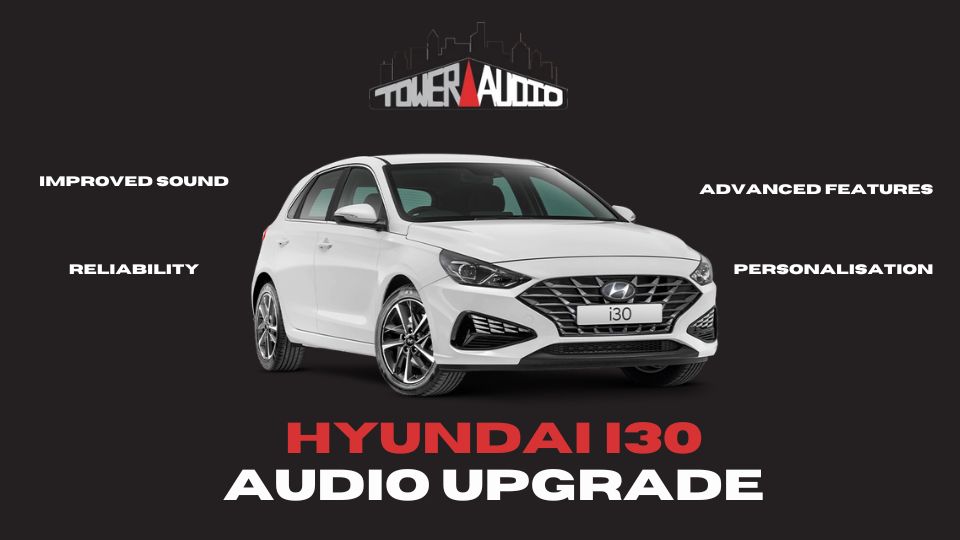 Benefits of Upgrading Hyundai i30 Audio System
Mentioned below are the 5 main reasons why Hyundai i30 owners decided to upgrade the head unit and audio system.
Improved Sound: A top reason is to get better sound quality. Aftermarket systems often offer better amplifiers, superior speakers, and advanced tuning capabilities.
Advanced Features: Aftermarket systems can bring modern tech features to older cars, including better connectivity options, touchscreens, voice controls, etc.
Personalisation: Owners might want a system that offers more customisation options, from display themes to equaliser settings.
Reliability: If a user has faced frequent issues with the default system, they might opt for an aftermarket solution that offers better reliability.
Integration with Other Devices: Many aftermarket systems offer smoother smartphone integration, including better support for apps and services.
Hyundai i30 Head Unit Upgrade
Tower Audio specialises in upgrading Hyundai i30 head units, offering a comprehensive solution to enhance your in-car entertainment and connectivity experience.
Here's how Tower Audio can assist with this upgrade:
Assessment: We start by understanding the customer's specific requirements and preferences. We assess factors like desired features, budget, and compatibility to recommend the ideal head unit upgrade options.
Product Selection: Based on the assessment, We recommend suitable head unit options for the Hyundai i30. We offer a range of choices, including single DIN, double DIN, touchscreen displays, and various connectivity features, ensuring customers find the perfect fit.
Professional Installation: Our experts handle the professional installation of the chosen head unit. We ensure a seamless integration with the Hyundai i30's existing systems, maintaining a factory-finish appearance.
Integration with Apple CarPlay: We ensure a smooth installation process for Apple CarPlay integration. We guide customers through the setup and configuration, enabling seamless connectivity with smartphones.
User Training: We also provide user training to ensure customers are comfortable using their upgraded head unit. This includes hands-on guidance for functions like making calls, using navigation, and accessing entertainment options.
Ongoing Support: Tower Audio offers ongoing support for any questions or concerns related to the upgraded head unit, ensuring a hassle-free and enjoyable ownership experience.
With Tower Audio's expertise, the Hyundai i30 head unit upgrade becomes a tailored, professionally executed process that enhances connectivity, entertainment, and overall customer satisfaction.
Hyundai i30N Audio Upgrade
Tower Audio recently upgraded the audio system in a Hyundai i30N, featuring Hertz Cento 6 speakers, a Pioneer 5-channel amplifier, and an Audison 10-inch Stealth subbox.
The Hertz Cento 6 speakers delivered exceptional precision and clarity, enhancing the overall audio quality. They ensured that every detail in music, from subtle nuances to powerful bass beats, was faithfully reproduced.
A Pioneer 5-channel amplifier provided the necessary power to drive the upgraded speakers, resulting in a balanced, distortion-free sound experience across all frequencies.
Adding an Audison 10-inch Stealth sub box subwoofer brought powerful and deep bass, elevating the audio system to create a captivating listening environment in the Hyundai i30N. Together, these components delivered a high-quality audio experience for drivers and passengers.
Upgrade Your Car Audio System With Tower Audio
With over two decades of expertise, Tower Audio has been dedicated to providing car owners with top-tier audio systems that elevate the driving experience.
Whether it's upgrading head units, enhancing car audio systems, or installing premium speakers and subwoofers, our commitment to excellence shines through in every project.
Tower Audio is here to help you get the best out of your car's audio system. Feel free to reach out to us and enhance your in-car sound experience.
We have the knowledge and commitment to ensure your car's audio system performs at its best for your enjoyment.