Is your car's sound system not sounding so great anymore? Do you struggle to hear the music clearly over road noise? Do your speakers lack bass or rattle at high volumes? Your car's audio system can deteriorate over time.
Old, underpowered, or mismatched components take away from music enjoyment during your daily drives. But how do you know exactly when it's time to upgrade your head unit, speakers, or amplifier?
There are some clear signs to listen and watch out for. From muffled sound to limitations on music formats, certain clues indicate your car is begging for new gear.
Considering how much time we spend driving, an improved car audio system can dramatically enhance your in-vehicle experience.
Read on for 8 signs that your car is due for an audio equipment upgrade.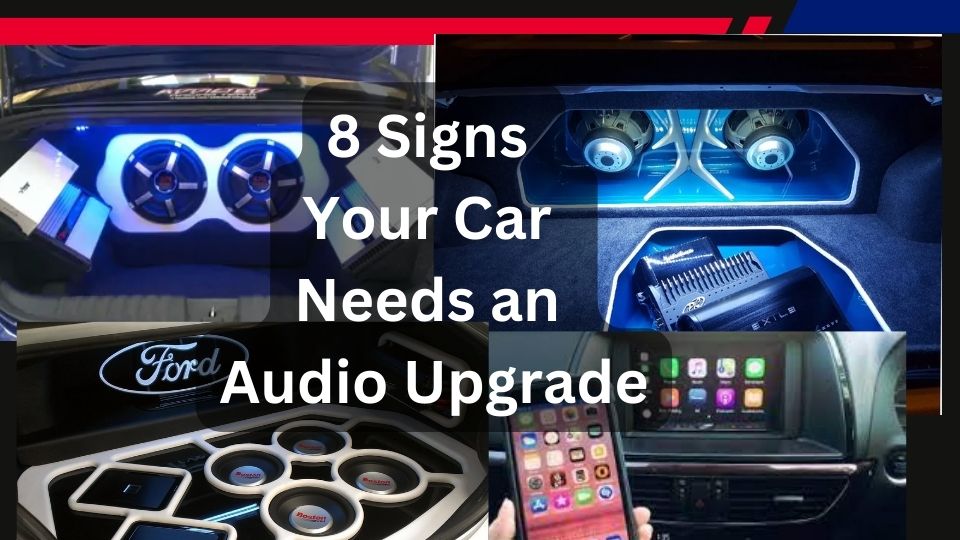 8 Signs Your Car Needs an Audio Upgrade
1. Muffled, weak sound
Your car speakers sound muffled or weak. The music lacks clarity and punch. This can happen when speakers get worn out after years of use. Or if your audio system doesn't have enough power. Upgrading the speakers and adding an amplifier can give you clearer, stronger sound.
2. Too much road noise
Do you have to crank up the volume because of loud road or wind noise? Too much background noise ruins your music listening. Adding sound-dampening materials in doors, floors and roofs helps block noise. Your music will sound much better.
3. Speakers rattle at high volume
Turning up the volume makes your speakers rattle and distort? That's a sign they're at their limit. Get speakers with higher power handling. They'll play loud and clear without rattling or sounding "muddy."
4. Not enough bass
Is your car audio lacking bass? Do you only hear tinny, weak, low end? Adding a subwoofer gives that deep, rich bass that makes the music sound full. Or upgrade the head unit for stronger bass signals to your speakers.
5. Can't play high-res music
Want to play high-resolution music files or streams? But your head unit doesn't support it? A newer receiver with HD Radio, Apple CarPlay or Android Auto lets you tap into better-quality music sources.
6. Just AM/FM radio and CD
Do you have a basic radio and CD player? Modern receivers add Bluetooth, apps, backup cameras – features that enhance your drive. Upgrade to a newer head unit for connectivity and entertainment.
7. Old looking equipment
Speakers, amp or head unit look really old and dated? Newer car audio gear takes advantage of the latest technology for better sound. Upgrade and take advantage of newer features.
8. Mismatched speakers
Did you install new speakers but not as a complete set? Mixing component, coaxial and brands causes uneven sound. For the best tone, upgrade with a matched speaker set.
Car Audio Upgrade in Melbourne
If you've noticed some of these signs it may be time to upgrade your car's audio system. Improving sound quality and adding the newest features can really enhance your daily drives.
But upgrading stereo equipment takes know-how to get right. For expert car audio upgrades in the area, turn to Tower Audio. With over 20 years of experience, Tower Audio specialises in custom car audio installation and repairs.
We will help you select optimal gear to transform the way your car sounds. Tower Audio offers top brands and quality components tailored to your budget. With our expertise in seamlessly integrating head units, amplifiers, subwoofers, and speakers, your ride will be rocking in no time. 
Call us on (03) 9553 3054 or fill in the contact form and we will get back to you.